What Is the Difference between normal and CNC Press Brake Tooling
jstmachine
Press Brake tooling is a tool that fits on Press brake to proceed the metal sheet material with various shapes, It consists of different punches, dies, holders. and the different shapes and sizes change come from the Pressure on the tools.

What is the press brake tooling structure?
Press brake tools are divided into the top punch and bottom Die, which is used for metal sheet forming and separating.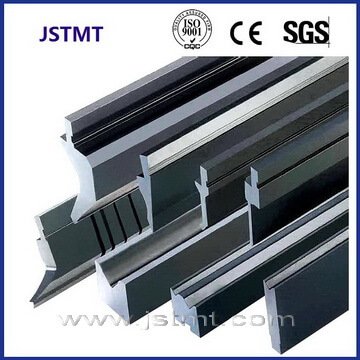 The difference between normal bending tools and CNC bending tools
1. The material of Bending tools normally adopt carbon tool steel T7A.T8. or high carbon steel 70#.80##, sometimes spring steel 55SiCr
2. CNC Press Brake Tooling Material: 42CrMo; 40Cr
The difference for the normal bending die is treated by high frequency part heat treatment, while CNC bending dies adopted with fully heat treated. that's why the CNC bending die is durable than the normal one.

Application of the China Bending Industry
From the world scope of the China manufacturing industry, China's manufacturing industry has developed rapidly.  It has a big market for CNC bending tools, not only the demand on the quantities but also quality.
The CNC bending tools have been widely used in the Equipment  Manufacturing, Mold Manufacturing, Aerospace Industry with high accuracy and quality for recent years.